Cold-Storage Business Dept.
The Cold Storage Business Department operates and manages the Toyosu Toichi cold storage warehouse, located at Block 6 of the Toyosu Fish Market.
【About the Toyosu Toichi Cold Storage Warehouse】
Connected to the 1st floor and 4th floor of the Toyosu Fish Intermediate Wholesale Market Building.
Site area
5,088.46m² (approx. 54,771ft²)
Construction
Reinforced concrete (pillars), fire- and earthquake-resistant steel (beams) 5 stories above ground, 1 story tower; highest point: 35.84m (approx. 118ft)
Building area
3,550.87m² (approx. 38,221ft²)
Floor area
16,404.31m² (approx. 176,575ft²)
Dock shelters
Inflatable: 3 / For 10-ton vehicles: 2
For 4-ton vehicles: 2 / For 1-2ton vehicles: 8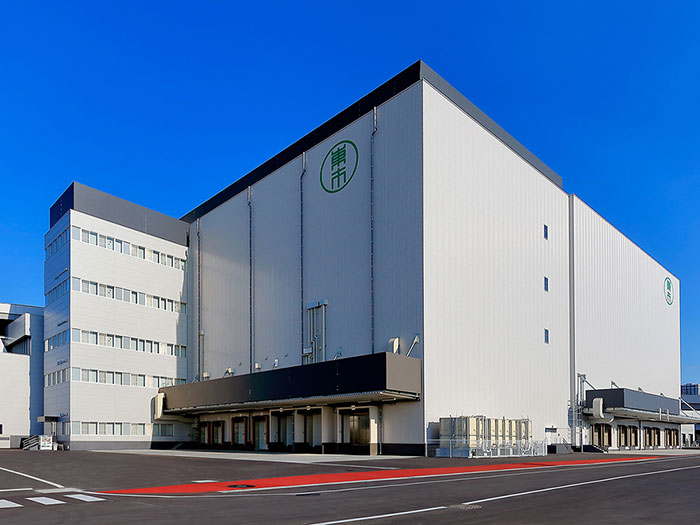 Meeting the needs of the Toyosu Fish Market—one of the world's largest fish markets which hosts a highly diverse range of marine products—the Toyosu Toichi cold storage warehouse provides refrigeration chilled (C-grade), frozen (F-grade), and super frozen (SF-grade) temperature levels. This allows the storage of a wide range of marine products ranging from salt-dried fish to frozen tuna. The site also includes a fresh fish storage room on the 1st floor, connected to the Toyosu Fish Intermediate Wholesale Market Building. This greatly aids the day-to-day logistics of the Toyosu Fish Market.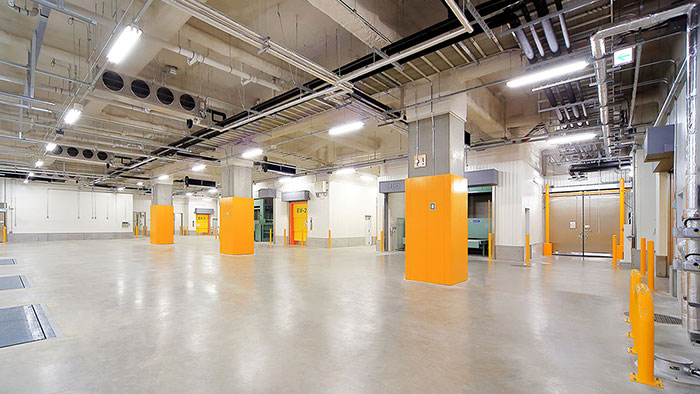 Furthermore, the warehouse is fully equipped with automatic ice makers to supply additional ice for sellers of fresh fish. Our company uses Nitrogen Ice* which maintains the quality of fresh fish, thus enriching our capabilities for cold chain logistics.
Our company also uses slightly acidic hypochlorous acid water so that we can ensure safe and hygienic operation as traders that work with food.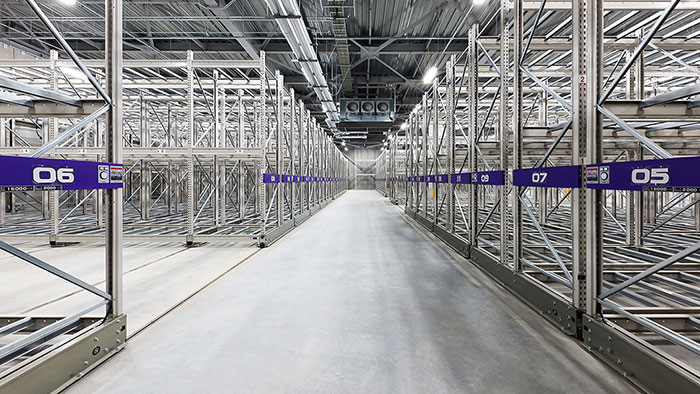 *Nitrogen Ice: Nitrogen Ice (chissohyou) is a registered trademark (No. 5108688) and is manufactured using equipment that makes ice with nitrogen gas (Patent No. 4079968) by Showa Freezing Plant Co., Ltd. The oxygen in the water is replaced with nitrogen and then frozen, removing most of the oxygen. This prevents oxidization, which has the effect of preserving the quality and freshness of food.